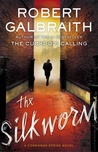 The Silkworm by Robert Galbraith
My rating: 3 of 5 stars
Although not quite as strong as The Cuckoo's Calling, The Silkworm is an enjoyable read which expands the world and characters from its strong and confident predecessor.
Despite Private Detective Cormoran Strike's imposing figure the story does not rely on physical altercations and chases to generate drama. Strike is focused, patient, observant and clever. His thoughtful interviews guide the subjects to talk freely and fill their own uncomfortable silences. The case is built in layers as each interview adds, underscores, contradicts or attacks previous testimony. This process gives the reader access to the case in a way a Sherlock mystery never could. Strike's capable assistant Robin Ellacot again provides a vital sounding board for his analysis and compliments with her own insight. Her role as an investigator grows with more time in the field and increasingly working on her own. More attention is focused on her personal life and her fiance, Matthew Cunliffe, introducing his POV for the first time.
I appreciate the the violence, sex and gore of the case is cataloged and scrutinized; while again refraining from explicit detail of Cormoran or Robin's sex lives. It would be easier to write those scenes then what Galbraith does, to focus on the state of mind of the investigator, rather than go for salaciousness. I appreciate the arc Robin and Matthew go through in this novel, which should only make Robin stronger as the series progresses. For Cormoran it seems his romantic life is still finding familiar patterns but his interaction with his family and friends show potential for some level of happiness. It is my sincere hope the in the next novel Cormoran's prosthesis and amputated leg are less of a focus. I like it as a character trait, but Cormoran's swollen aching stump is practically the fourth most discussed character in the book.
The Silkworm proves that The Cuckoo's Calling was not a fluke. As Robert Galbraith, Rowling knows what she is doing. The pacing, characters, and subtly of tone far outstrip her work in the Harry Potter series. Some crutches remain, such as protracted misunderstandings due to lack of communication, but even there it is improved from the previous novel. I definitely would recommend this series to anyone familiar with the genre, and although flawed, The Silkworm successfully transitions Cormoran Strike into a series stable enough for many stories to come.